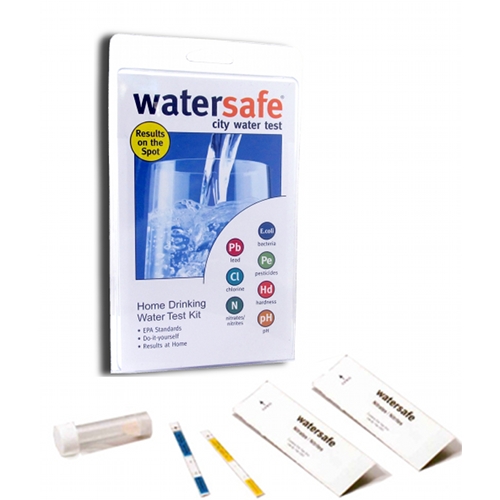 City-Test
City Water Test Kit
For testing of 8 municipal water supply parameters.
Retail Price : $0.00
Our Low Price : $0.00

Sorry, This product is no longer available. Please call for alternatives
---
This simple, affordable one-of-a-kind kit tests for 8 of the most common and potentially hazardous contaminants found in drinking water Bacteria, Lead, Pesticides, Nitrates, Nitrites, Chlorine, pH and Hardness . Sample your water today and watch results appear right before your eyes!
Product Description:
- Get professional lab results in your own home
- Find out if you have "hard water"
- Detect dangerous amounts of chlorine
- Test for presence of bacteria
- Reveal the presence of deadly toxins from pesticides or fertilizers
- Learn your water's pH balance
- Compare your results to EPA-recommended levels
- Single use
Contents:
1 Bacteria Test Vial
1 Lead / Pesticide Test Strip
1 Nitrate / Nitrite Test Strip
1 pH / Hardness / Chlorine Test Strip
---
Related Categories
See All :