ON SALE NOW
Introducing the Polaris Lab Water Systems
High Purity Water Made In The USA.
Click here for more info.
Flow-Max Standard Cartridges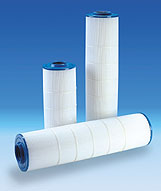 Flow-Max Cartridges are pleated so initial pressure drop is significantly less compared to depth cartridges such as wound spun melt blown and resin bonded. As a result higher flow rates are possible reducing filter housing size requirements to lower capital equipment costs. Flow-Max cartridges are washable and reusable five micron and up to reduce filtration costs. For best results direct spray into pleats to dislodge sediment. Or let dry and brush filter cake from surface of the media.

These filters have been discontinued. Please use the Instead.
More Info
Product Name
Retail Price
Our Price


More Info

Standard Cartridge - 9-3/4 inch

Catalog id : FM-0.35-975

.35 Micron - discontinued use
NPF-0.35-975
$0.00
$0.00
No
Longer
Available


More Info

Standard Cartridge - 9-3/4 inch

Catalog id : FM-1-975

1 Micron - discontinued use
NPF-1-975
$0.00
$0.00
No
Longer
Available


More Info

Standard Cartridge - 9-3/4 inch

Catalog id : FM-5-975

5 Micron - discontinued use NPF-5-975 instead.
$0.00
$0.00
No
Longer
Available


More Info

Standard Cartridge - 9-3/4 inch

Catalog id : FM-20-975

20 Micron - discontinued use
NPF-20-975
$0.00
$0.00
No
Longer
Available


More Info

Standard Cartridge - 9-3/4 inch

Catalog id : FM-50-975

50 Micron - discontinued use
NPF-50-975
$0.00
$0.00
No
Longer
Available



All Images are representative and may or may not be of actual product.



Tags : VAN NUYS WATER | FLOW-MAX | STANDARD | CARTRIDGES

VAN-NUYS-WATER.COM content (C)2009-2023 APS Water Services Corporation - All rights reserved
Website Software - Multi-Website Content Manager - Wilson Web Engineering (C)2012-2023


Micro-Website is a trademark of Wilson Web Engineering

flow-max standard cartridges
van-nuys-water.com micro-website™
11/28/2023
6:09:18 PM




Google Apps
---