ON SALE NOW
Introducing the Polaris Lab Water Systems
High Purity Water Made In The USA.
Click here for more info.
Ceramic Element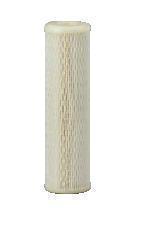 Ametek CRE Series cartridges are manufactured from a sintered ceramic filtration media. They are designed and tested for the reduction of Cryptosporidium and Giardia cysts and are ideal for fine sediment filtration applications. The fine ceramic media will effectively trap dirt sediment and cysts down to 1-micron in diameter. A proper fit is ensured and water bypass is prevented through the use of a knife-edge seal. CRE Series cartridges are easily cleaned with water and a damp cloth sponge or stiff brush. The can be cleaned several times until the diameter at the smallest point is 1-1/2'' or the circumference is 4-3/4'' extending the cartridge life.
More Info
Product Name
Retail Price
Our Price


More Info

Specialty Cartridge

Catalog id : CRE-1

Ceramic Element 6
$74.72
$55.35


More Info

Specialty Cartridge

Catalog id : SK20D

Aquadene Dispenser
$451.50
$334.44


More Info

Specialty Cartridge

Catalog id : SK20C

Aquadene Cartridge
$98.68
$73.10



All Images are representative and may or may not be of actual product.



Tags : VAN NUYS WATER | CERAMIC | ELEMENT

VAN-NUYS-WATER.COM content (C)2009-2023 APS Water Services Corporation - All rights reserved
Website Software - Multi-Website Content Manager - Wilson Web Engineering (C)2012-2023


Micro-Website is a trademark of Wilson Web Engineering

ceramic element
van-nuys-water.com micro-website™
11/28/2023
5:07:36 PM




Google Apps
---