ON SALE NOW
Introducing the Polaris Lab Water Systems
High Purity Water Made In The USA.
Click here for more info.
Pentek Ametek Polyester Filter Cartridges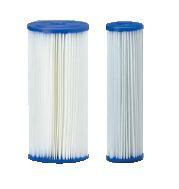 Made of durable non-woven reusable polyester fiber which allows several uses. Their synthetic construction makes them ideal for water well applications since they cannot be attacked by bacteria.
More Info
Product Name
Retail Price
Our Price


More Info

Sediment Filter Cartridge

Catalog id : R30

Polyester 9-3/4 inch 30 micron, 12.0 gpm
$19.80
$17.92


More Info

Sediment Filter Cartridge

Catalog id : R50

Polyester 9-3/4 inch 50 micron, 12.0 gpm
$19.11
$14.16


More Info

Sediment Filter Cartridge

Catalog id : R30-BB

Polyester 9-3/4 inch 30 micron, 25.0 gpm
$40.47
$29.98


More Info

Sediment Filter Cartridge

Catalog id : R50-BB

Polyester 9-3/4 inch 50 micron, 25.0 gpm
$32.10
$23.77



All Images are representative and may or may not be of actual product.



Tags : VAN NUYS WATER | PENTEK | AMETEK | POLYESTER | FILTER | CARTRIDGES

VAN-NUYS-WATER.COM content (C)2009-2023 APS Water Services Corporation - All rights reserved
Website Software - Multi-Website Content Manager - Wilson Web Engineering (C)2012-2023


Micro-Website is a trademark of Wilson Web Engineering

pentek ametek polyester filter cartridges
van-nuys-water.com micro-website™
11/28/2023
5:56:33 PM




Google Apps
---