Phosphate Crystal Filter Cartridges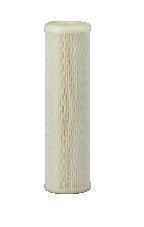 Pentek Ametek Brand filter cartridges. Polyphosphate filters are used to help stop the formation of calcium carbonate scale. The phosphate sticks the the calcium so it can not stick to itself with any strength. These filters will not soften the water but work well in front of water heaters boilers and other devices.

These filters fit 10" filter housings. Filter Housings.
More Info
Product Name
Retail Price
Our Price


More Info

Specialty Cartridge

Catalog id : PCC-1

Phosphate Crystals 9-3/4 inch, 15.0 gpm 6
$106.11
$78.60


More Info

Specialty Cartridge

Catalog id : PCC212

Phosphate Crystals 9-3/4 inch, 12 oz. 6
$61.04
$45.22


More Info

Specialty Cartridge

Catalog id : PCC218

Phosphate Crystals 9-3/4 inch, 18 oz. 6
$72.86
$53.97



All Images are representative and may or may not be of actual product.



Tags : VAN NUYS WATER | PHOSPHATE | CRYSTAL | FILTER | CARTRIDGES

VAN-NUYS-WATER.COM content (C)2009-2023 APS Water Services Corporation - All rights reserved
Website Software - Multi-Website Content Manager - Wilson Web Engineering (C)2012-2023


Micro-Website is a trademark of Wilson Web Engineering

phosphate crystal filter cartridges
van-nuys-water.com micro-website™
1/28/2023
2:44:20 AM




Google Apps
---