ON SALE NOW
Introducing the Polaris Lab Water Systems
High Purity Water Made In The USA.
Click here for more info.
Storage Tanks For Commercial / Laboratory And Residential Distillers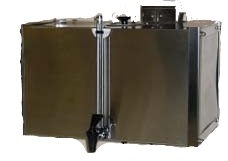 We offer a wide selection of inexpensive stainless steel storage tank for our commercial distillers. These high quality tanks can be used for many other applications.


More Info
Product Name
Retail Price
Our Price


More Info

Commercial - Resdential Water Distiller Tank

Catalog id : 400121

Storage Tank - 20 liter - 5.3 gallons, Stainless Steel, with auto level control and casters.

Commercial/Home Distiller Units.
Storage Tanks
Complete Packages
Operating Manual
$836.02
$760.02


More Info

Commercial - Resdential Water Distiller Tank

Catalog id : 400433

Storage Tank - 40 liter - 10.6 gallons, Stainless Steel, with auto level control and casters.

Commercial/Home Distiller Units
Storage Tanks
Complete Packages
Operating Manual
$873.33
$768.39


More Info

THERMOSTAT CLOSE AT 90F

Catalog id : 400105

Storage Tank - 4.5 Gallon - Stainless Steel, with out level control

Commercial/Home Distiller Units.
Storage Tanks
Complete Packages
$430.25
$430.25


More Info

Commercial - Resdential Water Distiller Tank

Catalog id : 400104

Storage Tank - 4.0 Gallon - Stainless Steel, with auto level control

$558.51
$465.23


More Info

Commercial - Resdential Water Distiller Tank

Catalog id : 400447

Storage Tank - Utility Grade- 40 liter - 10.6 gallons, Stainless Steel, with auto level control and Steel Support and Stainless steel casters.

Commercial/Home Distiller Units
Storage Tanks
Complete Packages
Operating Manual
$768.39
$675.11


More Info

Commercial - Resdential Water Distiller Tank

Catalog id : 400123

Storage Tank - 150 gallons, Stainless Steel, with auto level control 24v) for use with 42C Distiller
Ships Via Truck Freight Only. We will quote extra costs upon request.
Commercial/Home Distiller Units.
Storage Tanks
Complete Packages
Operating manual
$3,263.63
$3,030.43


More Info

Commercial - Resdential Water Distiller Tank

Catalog id : 400106

Storage Tank - 86 liter - 25 gallons, Stainless Steel, with auto level control 115v)
Ships Via Truck Freight Only. We will quote extra costs upon request.
Commercial/Home Distiller Units.
Storage Tanks
Complete Packages
$1,066.89
$966.61


More Info

Commercial - Resdential Water Distiller Tank

Catalog id : 400108

Storage Tank - 80 gallons, Stainless Steel, with auto level control 24v) for use with 42C Distiller
Ships Via Truck Freight Only. We will quote extra costs upon request.
Commercial/Home Distiller Units.
Storage Tanks
Complete Packages
Operating manual
$2,004.35
$1,829.45


More Info

Commercial - Resdential Water Distiller Tank

Catalog id : 400122

Storage Tank Only - 150 gallons, Stainless Steel, without auto level control for use with 42C Distiller
Ships Via Truck Freight Only. We will quote extra costs upon request.
Commercial/Home Distiller Units.
Storage Tanks
Complete Packages
Operating manual
$3,088.73
$2,913.83



All Images are representative and may or may not be of actual product.



Tags : VAN NUYS WATER | STORAGE | TANKS | COMMERCIAL | / | LABORATORY | RESIDENTIAL | DISTILLERS

VAN-NUYS-WATER.COM content (C)2009-2023 APS Water Services Corporation - All rights reserved
Website Software - Multi-Website Content Manager - Wilson Web Engineering (C)2012-2023


Micro-Website is a trademark of Wilson Web Engineering

storage tanks commercial / laboratory residential distillers
van-nuys-water.com micro-website™
11/28/2023
5:45:37 PM




Google Apps
---